Projekt: Bau von Hausmodell "Captiva Plus"
Baubeginn Modell Captiva Plus auf eigenem Grundstück am Freshwater Canal im Südwesten von Cape Coral
Mein Mann und ich haben uns im März 2020 zum Bau eines Neubaus entschieden, das Modell Captiva Plus. Das Haus wird auf unserem Freshwater Grundstück im Südwesten von Cape Coral gebaut. Das Grundstück für dieses Haus grenzt direkt an unsere drei Ferienvillen Gretchen, T-Bird und Blue Chair Bay an und macht es so für uns möglich, optimal und schnell für unsere Gäste da zu sein. Das Closing, also der Übertrag des Baus, ist für den 15.01.2021 festgelegt – damit wird die moderne Villa in weniger als einem Jahr fertiggebaut.
Ende April 2020 beginnt die Bauphase durch die Errichtung der "Seawall". Der Bau der "Seawall" ist der erste Schritt und nach deren Fertigstellung können die Baupläne bei der City of Cape Coral eingereicht werden. Der Bau einer "Seawall" dauert in aller Regel nur wenige Tage.
Das Grundstück wird von Bäumen und Sträuchern befreit und für die weiteren Arbeiten glatt gezogen.
Mitte Juni 2020 ist die Bodenplatte gegossen und die Grundmauern werden hochgezogen.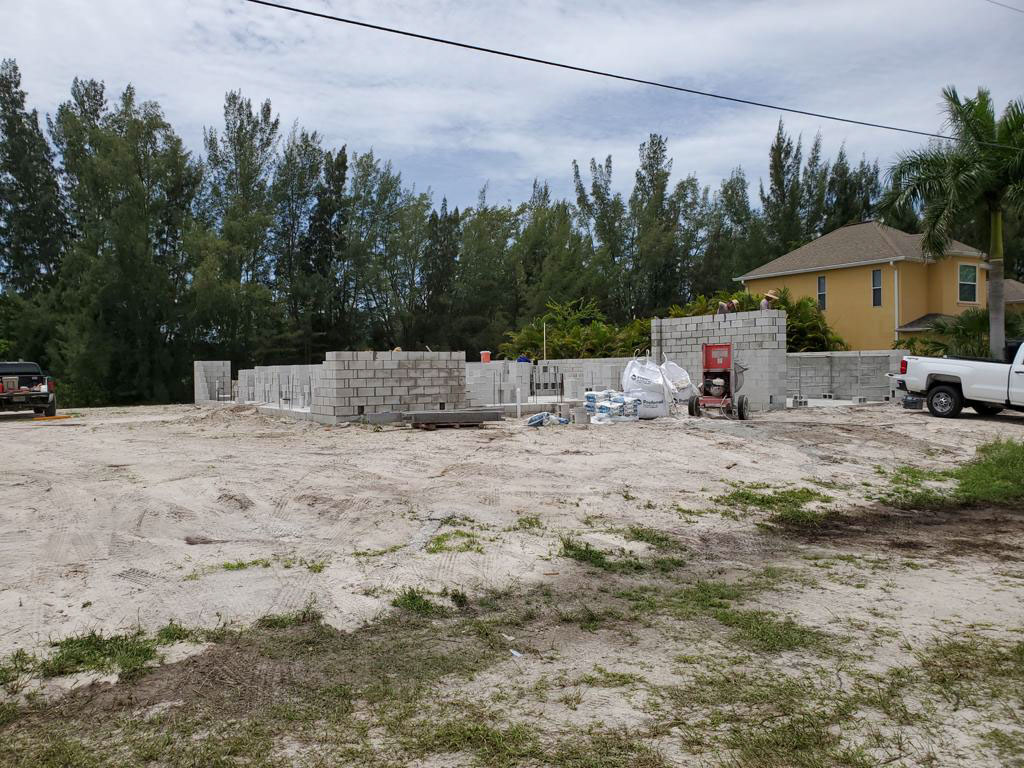 Ende Juni 2020 sind die Grundmauern bereits komplett errichtet.
Anfang Juli 2020 wird der Dachstuhl angeliefert. Üblicherweise ist dieser bei Anlieferung "zusammengefaltet" und wird dann im Anschluss beim Aufsetzen auf die Grundmauern auseinandergezogen.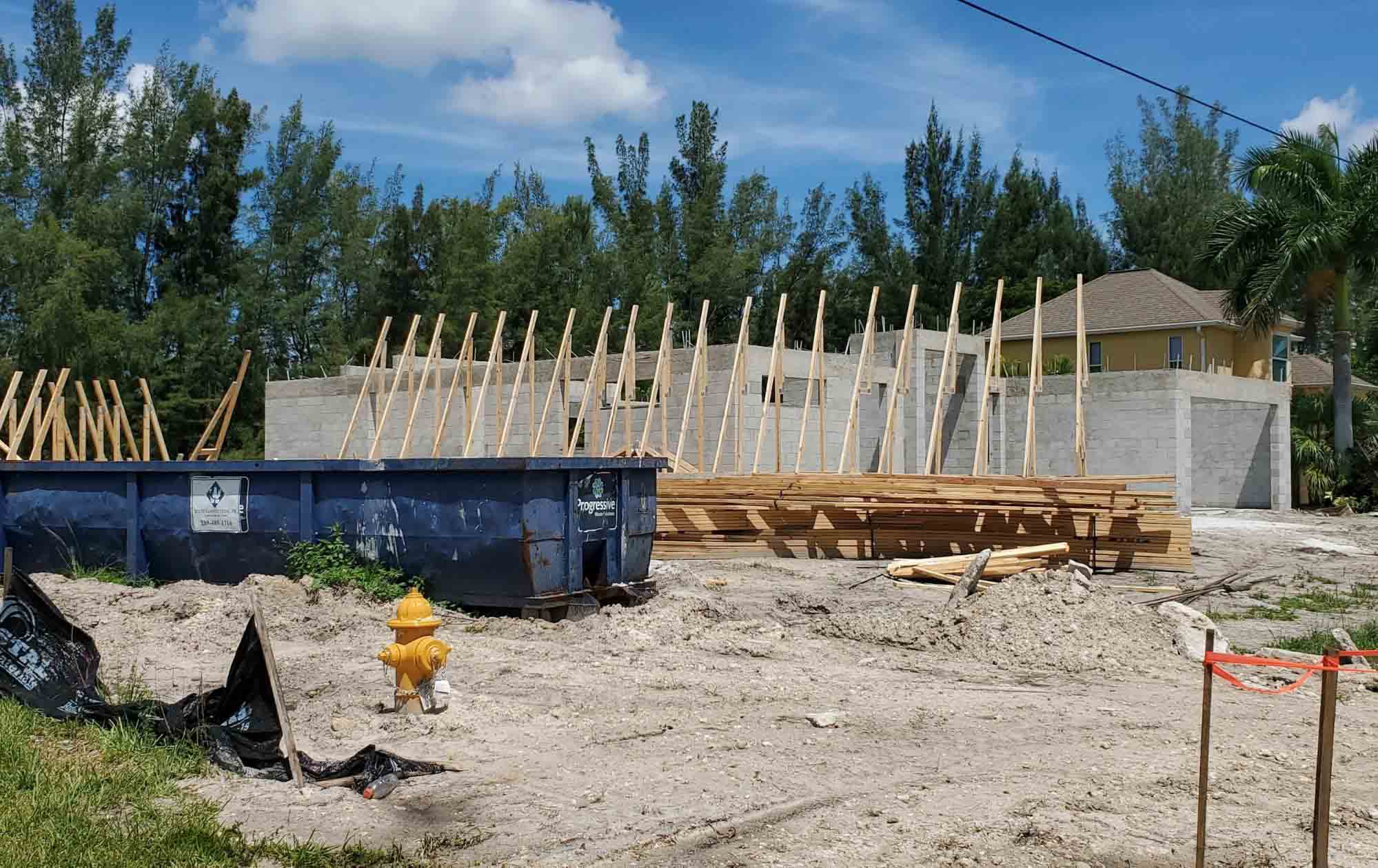 Der Dachstuhl wird mit Hilfe eines Krans aufgeklappt und auf die Grundmauern aufgesetzt.
Ende Juli 2020 ist der Dachstuhl mit Platten und Folie abgedeckt und perfekt vorbereitet, um im Laufe der Bauarbeiten die Dachziegel aufzulegen.
Anfang August 2020: Das Dach ist errichtet und das Ständerwerk im Inneren ist ebenfalls fertig.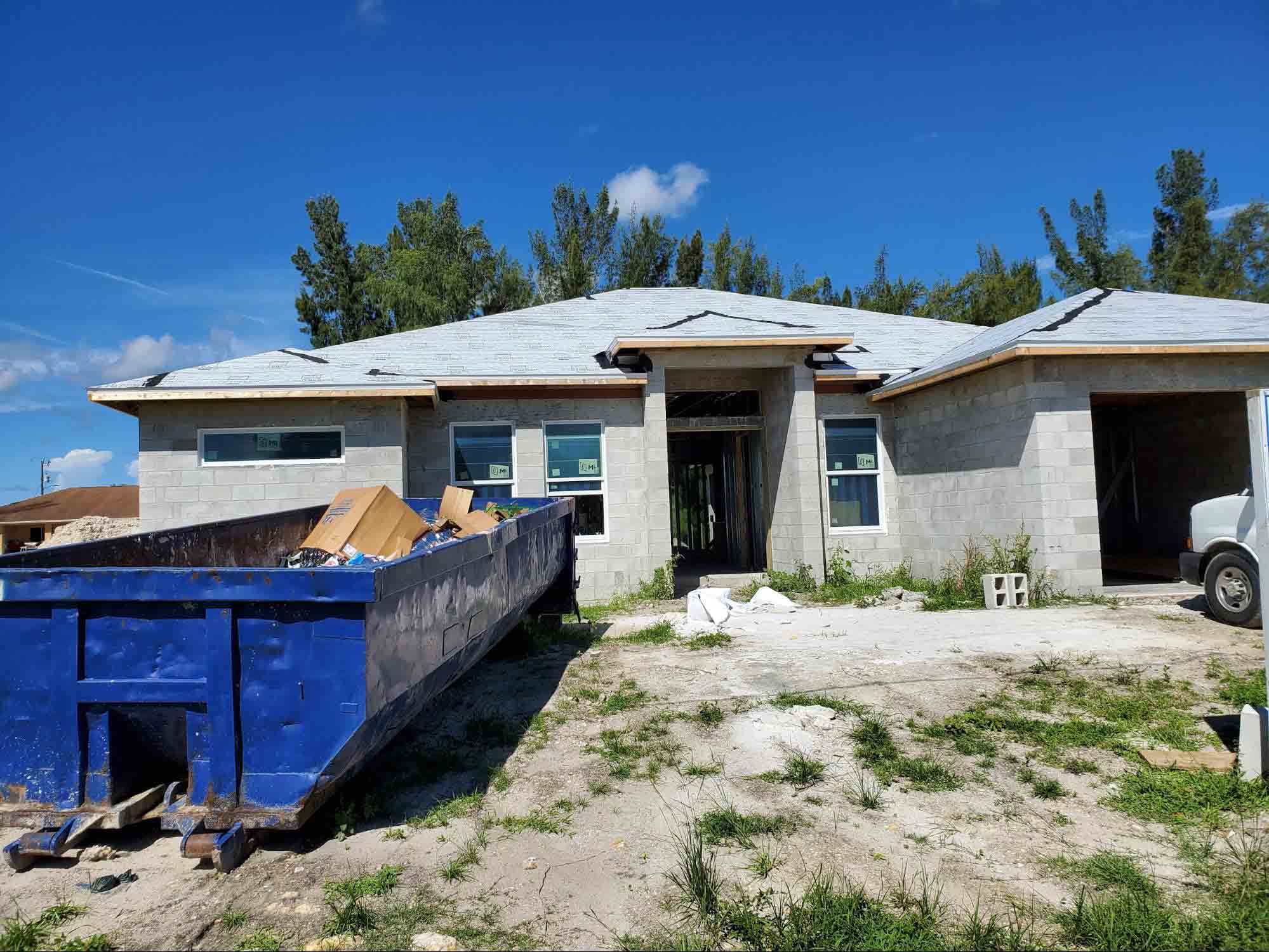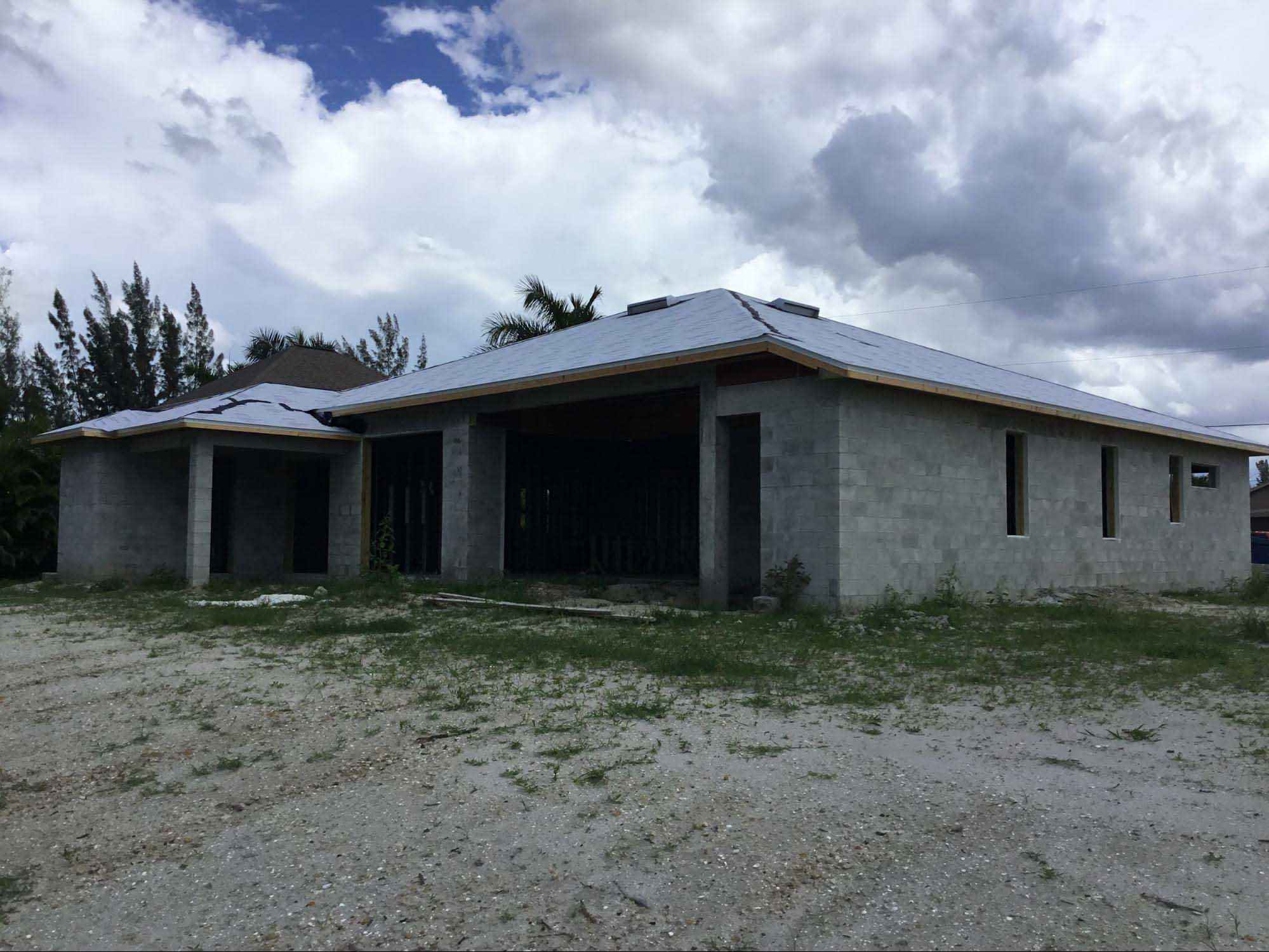 Rückansicht Captiva Plus Stand Anfang August 2020.
Die Arbeiten/Aushebung des Pools haben begonnen
Ende August 2020: Die hohen Schiebetüren am Lanai, Terrasse sind nun eingesetzt.
Der Pool ist komplett ausgegossen, der Spa ebenfalls und man erkennt hier sehr schön das "Sun Shelf" direkt vor dem Spa. Ein "Sun Shelf" ist eine Liegefläche im Wasser.
Der Innenausbau geht voran
Im Inneren des Neubaus ist das Ständerwerk komplett vorhanden, die Elektrik ist nun verlegt, ebenso das "Ductwork" für die Klimaanlage und das "Plumbing", also Leitungen, Rohre, Lüftungsschächte und Wasserrohre.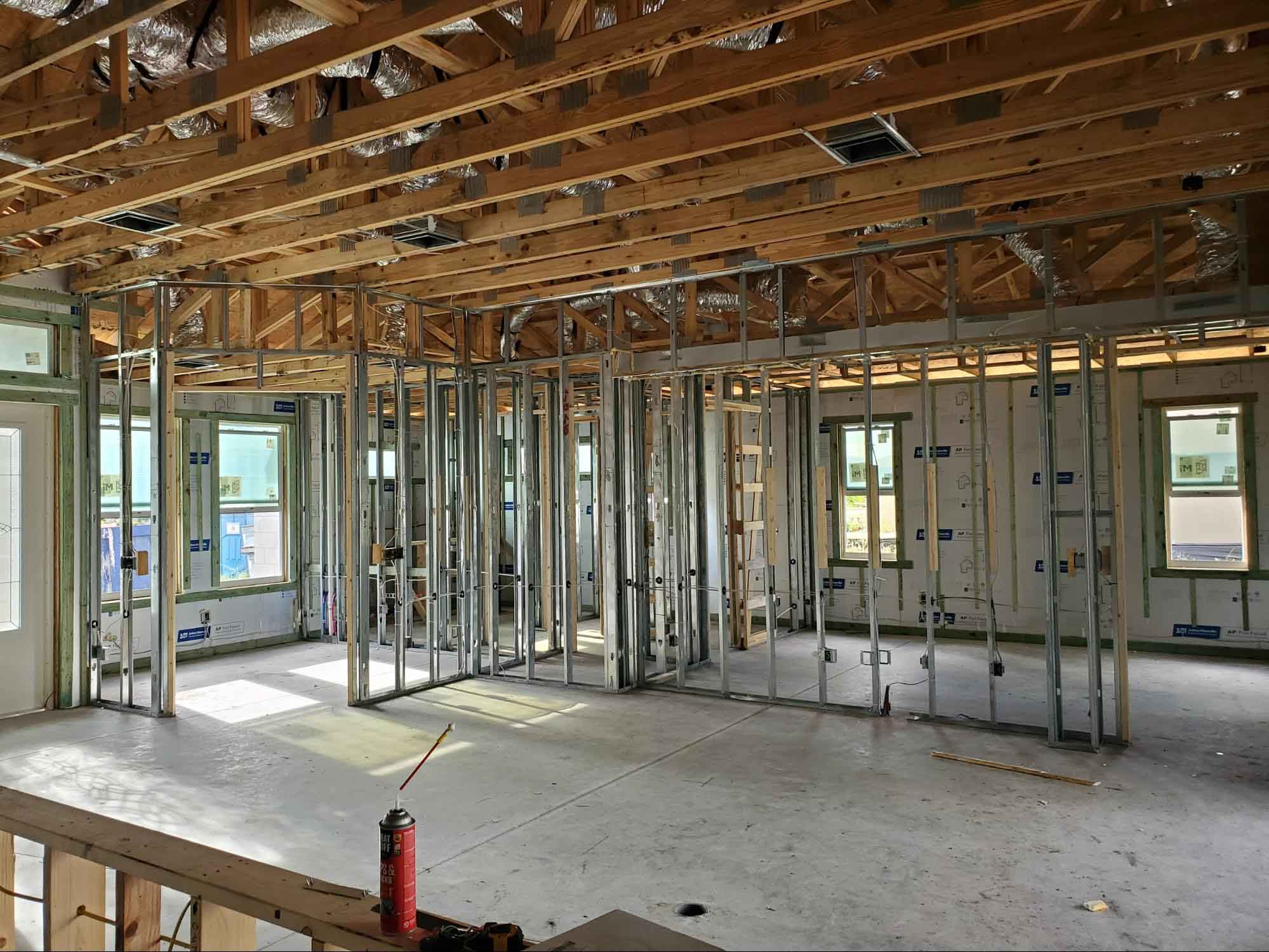 Baufortschritt beim Pool
Hier kann man gut die Grundlage für das spätere Sun Shelf und das Spa erkennen.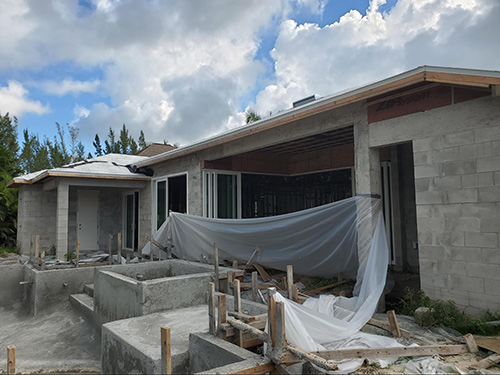 Einsetzen von Fenster und Türen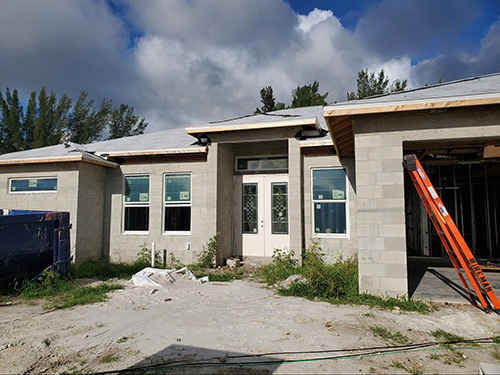 Die Fenster ("Impact Windows" – Hurricane-resistent) sind nun eingebaut und auch die Haustüre schon eingesetzt.
Der Bau ist nun nicht mehr länger offen, sondern kann verschlossen werden.

Seitenansicht mit eingebauten Fenstern.
Baufortschritt Pool
Der Pool hat jetzt sogar schon einen Randstein.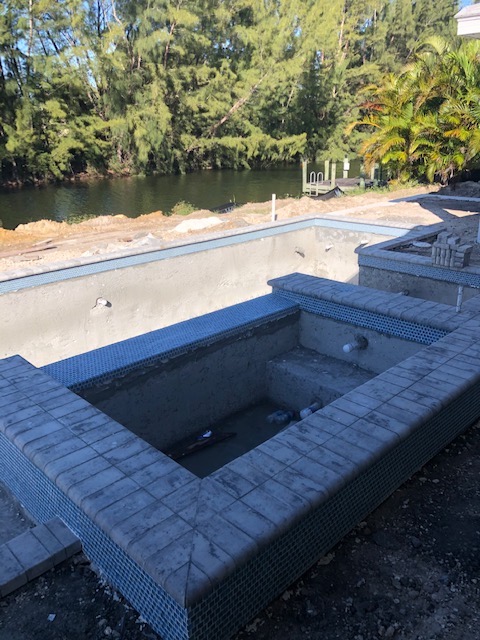 Bodenverlegung zum Pool und zur Haustüre
Mitte Dezember: Die Wege zur Haustüre und zum Pool sind fertig verlegt.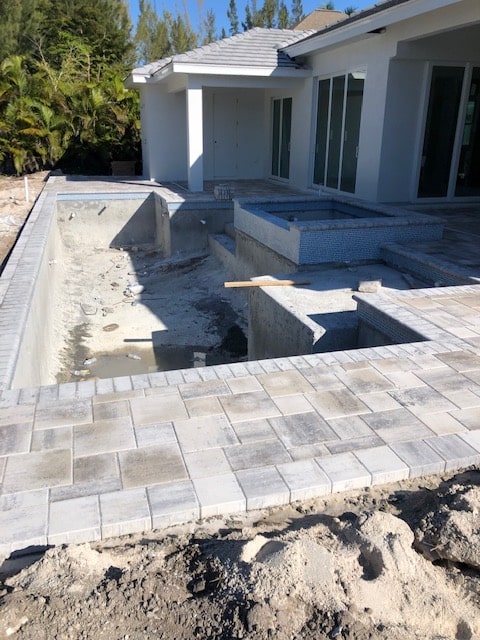 Nachdem die Böden fertig verlegt sind, kann als nächstes die Begrünung vorbereitet werden.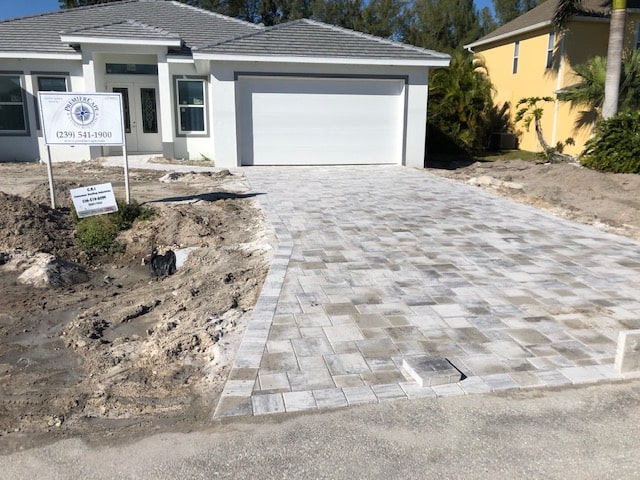 Neue Arbeitsplatte aus Quartz
Die hochwertige Arbeitsplatte aus Quartz wertet die Küche auch optisch auf.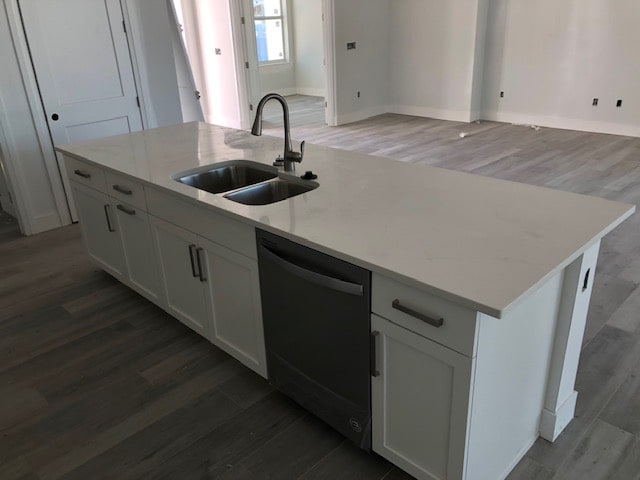 Große Fortschritte im Landscaping: Wasser marsch!
Am 15.12.2020 konnten Pool und Spa beschichten werden und bereits mit Wasser gefüllt werden.
Die Vorbereitungen für das Landscaping sind abgeschlossen und im Laufe dieser (Weihnachts) Woche wird das Landscaping eingesetzt und ebenfalls die Irrigation. Am 22.12.2020 werden Palmen und Rasen angeliefert und eingesetzt, außerdem wurde das Sprinklersystem (die Irrigation) verlegt. Damit bekommen die neuen Pflanzen direkt Wasser.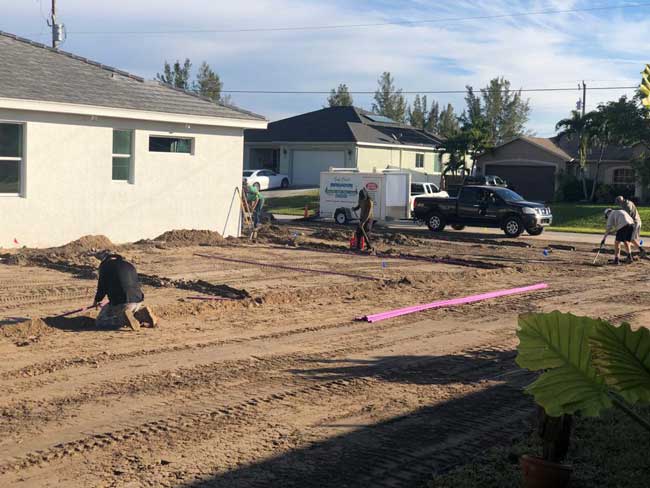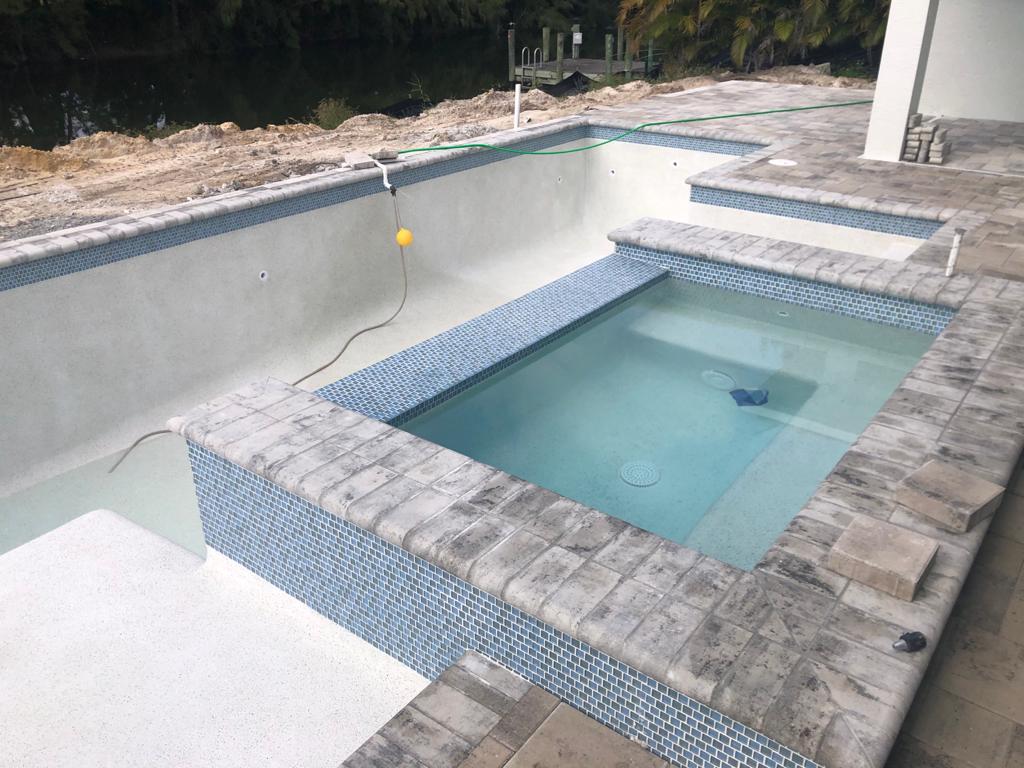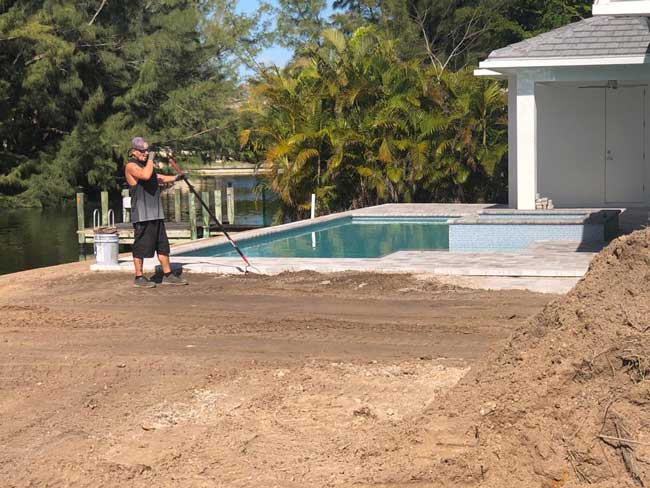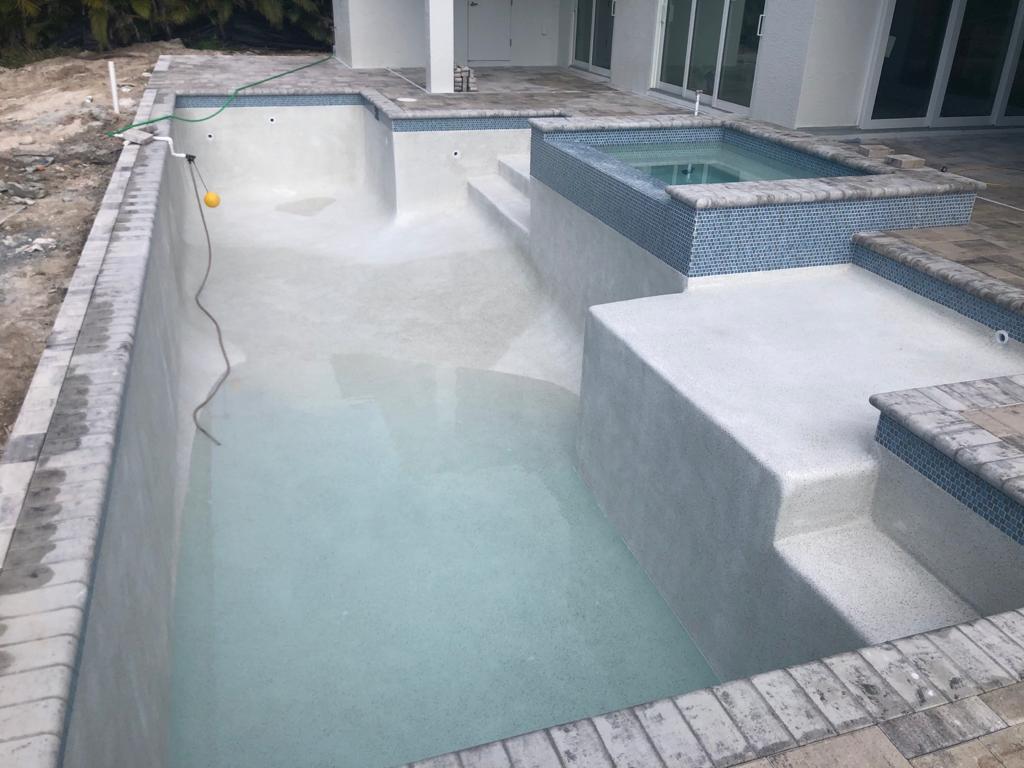 Anlieferung von Palmen und Rasen
Bau des Cages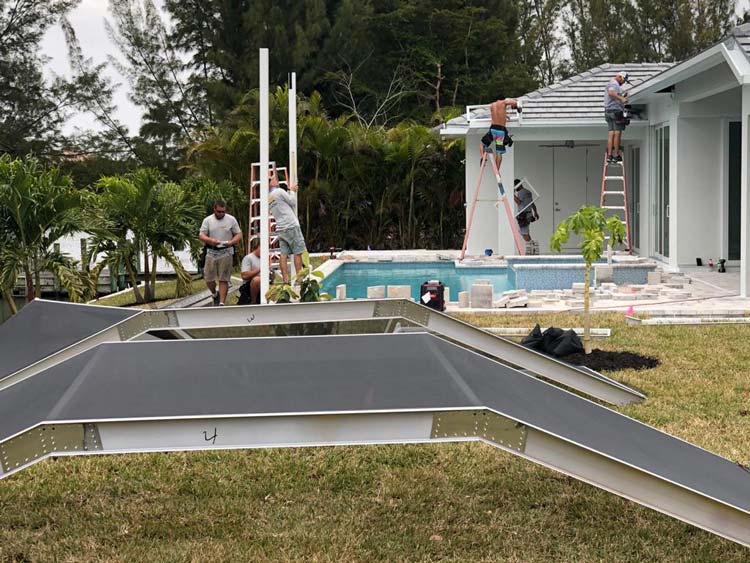 Der Cage für das Hausmodell "Captiva Plus" wird am Tag vor Silvester angeliefert.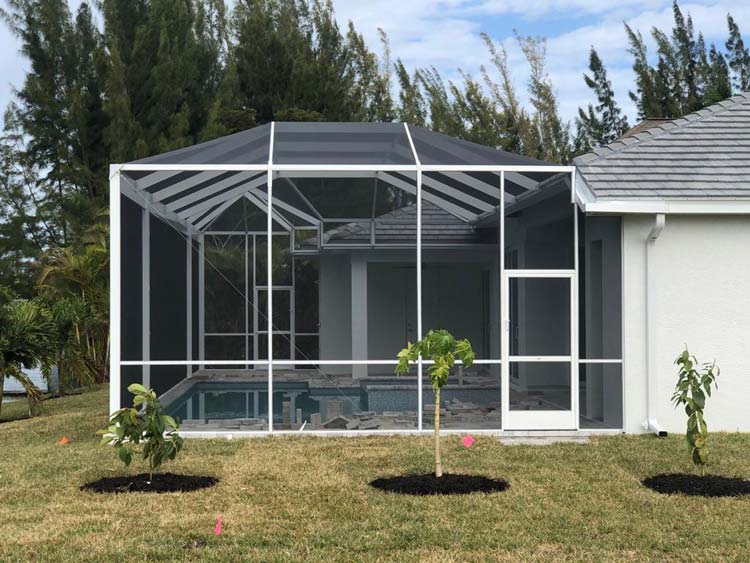 Am Silvestertag ist der Cage schon komplett aufgebaut und die Arbeiten abgeschlossen. Dieser Cage ist besonders hoch und hat zwei sehr große "Fenster", die den Cage sehr offen erscheinen lassen.
Fertigstellung
Nach einer Bauzeit von 8 Monaten ist heute, am 15.01.21, unser Neubau das Modell Captiva Plus fertig geworden.
Wir haben heute gemeinsam mit dem Bauunternehmer den "Final Walk Through", das heißt wir nehmen das Haus ab und prüfen es nochmals auf Mängel oder kosmetische Kleinigkeiten, das Haus hat eine Garantie von einem Jahr.
Im Anschluss müssen wir die Schlussrate an den Bauunternehmer bezahlen und erhalten dann heute noch die Schlüssel.
Dann fängt für uns die Arbeit an, das Haus muss eingerichtet werden, Strom und Wasser müssen angemeldet werden, die Mülltonnen müssen bei der City geordert werden und die Services wie Pool und Lawnservice müssen eingerichtet werden.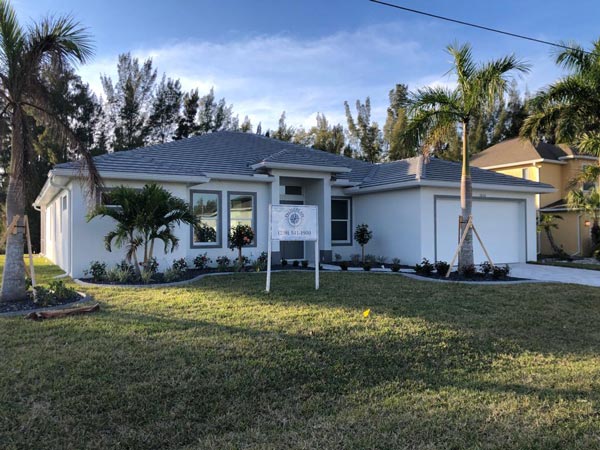 Zufriedene Kunden und glückliche Gäste meinen:
Wir sind gleich doppelt zufrieden. Während unserem Aufenthalt in der wunderschönen Villa Gretchen haben wir, mit Iras kompetenter Unterstützung, ein schönes Grundstück am Wasser mit Südausrichtung gefunden. Der Preis war wirklich gut. Wir spielen mit dem Gedanken uns noch ein weiteres Grundstück zuzulegen.
Christian A.
Detmold, Germany
A friend of mine recommended Ira and Harold to us when we were looking for a vacation home in Cape Coral. Perfect! We had a great time at the Villa Gretchen. The home was very nice and met all our needs. And, we are looking forward to returning next year to the T-Bird.
Jimbo
Milwaukee, Wisconsin
It's always a pleasure doin' business with you
Erik F.
Cape Coral, Florida
Satisfaction guaranteed!
I have done business with Ira three times and would do it a fourth time.
She finds exactly what I'm looking for my retirement.
Norm G.
Clinton, New Jersey
Das war ein SUPER Urlaub in einem SUPER Haus.
Es hat uns in 3 Wochen an nichts gefehlt und Ira und Harald sind hervorragende Gastgeber. Sehr zu empfehlen.
Wir kommen wieder.
Olaf B. und Familie
Köln, Germany
Beautiful Villa and excellent hosts. We´ll be back soon. Thank you so much!
Robert V.
Toronto, Canada
Christmas 2020, we had a wonderful and relaxing stay at Villa Gretchen…even caught several fish out of the canal…saw the family of turtles and other…we will be back!!!
The Haggerty's
Ira & Harold, thank you for having our family create unforgettable memories during these crazy Covid times…what a year! During our stay here, our family was able to explore Sanibel, visit Fort Myers Beach, and navigate Florida waters by boat! The best part of our stay, was soaking up sun rays and enjoy the pool. We appreciate you both for letting us stay in your beautiful home! We truly hope to return next year!
Best wishes and stay safe!
The Guzera Family
Dear Ira & Harold, thank you for sharing your lovely home with us. We've truly enjoyed our stay and look forward to returning soon! All the best!
Donnie and Michelle
Dear Ira & Harold, we would love to thank you so much for sharing your wonderful and lovely vacation house with us. It was amazing and we really enjoyed it, we will be back for sure next year, appreciate your effort and kindness to make it much easier for us to spend unforgotten vacation with awesome memories. All best wishes!
Linda Wad
Beautiful Home! A place to relax, refresh + renew! 🙂 We love the location of the home. It's close to all the shops and beaches. Harald + Ira are very sweet kind people. We are already looking forward to our return vacation to the perfect Villa T.
Hostess with the mostess
Thank you!
Mike & Teresa Schultz
Minnesota
Thank you for the opportunity to vacation in your beautiful rental home. Tonnie was respectful & responsive & our daughter sure loved meeting your dog! Your home was bright & clean & had most anything we would want tight here. We used the pool a few times, enjoyed the lanai for reading, loved the proximity to shopping in restaurants & your cape Coral location allowed us to travel back & forth to Fort Myers beach easily… As well as take a couple other excursions to Naples & Sanibel/Captiva. We really enjoyed our time together as a family and we are grateful for you & your home!
The Olsons – Kent, Laura, Katie, Matty
The Alexander family had an awesomely amazing time here at Blue Chair Bay! The friendlyness of the people in this area really gives this house a good vibe. The happiness can be felt and seen in all the wonderful splashes of color and art. It makes for a pleasant and peaceful stay. Thank you for the extra effort to make this house a home away from home. May this house always be blessed!
The Alexanders
Thanks to Ira, we found our dream home within just a week
Highly recommended service
Don & Dietrie H.
Dear Harald + Ira,
We want to thank you for sharing your beautiful home with us and for becoming great friends. We were able to relax and soak up the sun at the beautiful pool. We hate to leave but look forward to returning next year!
P.S. We miss you already!
Roger + Cathy
Dear Harald and Ira,
Thank you for our stay at Blue Chair Bay! It's been a wonderful experience. Your place was more than we expected and we absolutely loved the decor you chose. From the beginning you made us feel welcome and at home. Between you, Jennie and John all of our needs were taken care of. We enjoyed our afternoons in the pool, shopping, day trips and our time with old and new friends… You are truly amazing people and we were fortunate to have the opportunity to stay at Blue Chair Bay. We look forward to next year.
Mike + Cherie
Another day in paradise!
A great get-a-way from the Wisconsin cold. The Villa T-Bird worked out perfect. We again enjoyed the nice canal wiew and perfect sunset for cocktails! Our host Ira + Harald are the best and have become great friends. We will be back for years to come! We are looking forward to sharing more birddog whiskey and lime Bud-Light!
Jim + Jaye + Allison Bonini
Ira and Harald,
Thank you so much for allowing us the honor of staying in + enjoying Villa Gretchen. We absolutely loved everything about the home-away from home-vibe. You stocked the home with, literally, all of the basic necessities + then some! I've done my fair share of traveling and this is by far one of the best places we have stayed. We are beyond grateful.
Ashley, Josh + Kids
Ohio
What a beautiful new construction home. We loved the home and layout of bedrooms. The highlight was the outdoor living and pool. Our hosts were very accomodating.
Dave + family
Midwest
We loved our week away from the cold and grey of WI! Beautiful home and loved the layout. Great pool and our 14mo old loved it. Enjoyed being close to the Yacht Club. Thank you for putting up the safety fence and providing a high chair and crib – Much less for ur to worry about. Thank you!
B Family
Milwaukee, WI
My family and I had a great time at Villa Blue Chair Bay. We visited a new beach every day. The house is beautiful and spacious and the pool was great after spending a long day at the beach. Ira and Harald were so accommodating and the house was setup and furnished perfectly.
Philip Bergmann
We have totally enjoyed our stay at this villa! It was such a great location and well equipped! We appreciate the opportunity and will be back!
Gotwaldt
Oklahoma
We had a wonderful stay at Villa T-Bird!! Great place to getaway and relax. The sunsets were so beautiful. Thanks!
Tatiana
What a pleasure to stay in such a beautiful place! Had a great stay in Cape Coral and was always so happy to arrive back here each stay! Thank you for sharing!
SB
We enjoyed your beautiful home! We felt Gods presence in awe of the beauty from the inside out during our stay! God bless
The Tschudys
Georgia
Thank you for sharing your home with us! We had a wonderful relaxing time!
The Elide Family
We had an amazing time in this breathtaking home! It was an amazing stay, it was so relaxing and a great oppotunity to unplug from life for a little bit! We definitely plan on coming back! There is nothing to not love about this home! Quiet neighbourhood close to lots of shopping & good food, and to top it off we were able to relax in the pool while watching the beautiful florida sunset!
Thank you for an amazing Get away!
Lori & Gavin
Ira & Harald, what a great home! Very well equipped and comfortable. We had a wonderful stay – though it rained every day. Wellcome to SW Florida in June. Karen was able to really relax. We would like to stay again on our next trip south. Thanks very much for sharing your home!
Dave & Karen
Richmond, VA.
From me and my familiy we had a great time. We need it to unplug from the regular day to day life and we did. The house was spotless. We enjoyed the stay and we will surely come back!
Daymara Family
We enjoyed our time in this beautiful home. We used the pool every day. We appreciate your hospitality. Our favorite places: Sanibel Island, Captiva Island, Ft. Myers, Naples. Places to eath: Fresh Catch Bistro.
Weather's Clan
We absolutely LOVED this home. We used the pool everyday even w/ Elsa! Your hospitality was amazing. We had a great relaxing time here in Florida! We will be back.
Favorite Place: Ft Myers
Favorite Adventure: Adventures in Paradise, Shelling + Lunch Cruise
Favorite Place to Eat: The Lighthouse Rest.
The Keence's
We enjoyed our time in this beautiful house and that wonderful pool with that view. The neighbourhood was very nice and quiet!
The Captiva Beach was the best.
Thx Mrs Ira for your gentleness!
Dominguez
We loved staying in here in Cape Coral. The memories we made here are unforgetable. It was nice to get away from all the covid craziness and relax. We had an amazing time in Sansibel Island. From basking in the sun, collecting shells, swimming in the pool and ocean, watching the sunset and biking around were all very fun and enjoyable. We would love to come here again, next time bringing the whole family! As much as we hate to leave, we still had a wonderful time. We wish you all the best!
Until the next time!
Zak Family
We loved our week away from home, thanks for sharing your home with us. The house is perfect and very clean. My daughter was really happy and enjoyed the pool al days. We had an amazing week!
Thank you, we plan to come back soon.
Hanjeisi
The place felt very cozy. The pool was very fun, we swam in it almost every day. Our family also had lots of fun in the game room. We had a very good time here. Our stay will not be forgotten.
Gashi Family
Dear Harald and Ira,
Thank you so much for our stay at Blue Chair Bay! We had such a great time. The pool is wonderful and the grill. We enjoyed movies together as a family. You're really wonderful hosts – from accomodating early arrival to extending our stay. Such an easy-to-accomodate attitude.
Thank you again for a wonderful time.
Allon, Oeryl, Yordana, Gabi and Koby